Some thoughts on live music in corona times: balcony concerts
Contact-free improv. Yes, possible. But context-free? No. Yet the context is so much harder to grasp!
It requires much more effort of the listener and the player alike to catch (or construct?) the context when dealing with contact-free improvisations.
It's the lack of visible and perceptible reactions of fellow musicians and audience, the lack of community, the lack of a certain spark even that makes it so hard to experience the music in its context.
Which context, anyway? The circumstances of its production? The room in which the bass track was recorded? The time of the day the saxophone part was played? The squeaky piano chair? The current environment of the listener?
In these days, a live music situation leaves an especially strong impression.
What is a concert really about? It sure is not only about the music itself!
An example of shared music and its effect on the community of players and listeners alike might be our balcony concerts.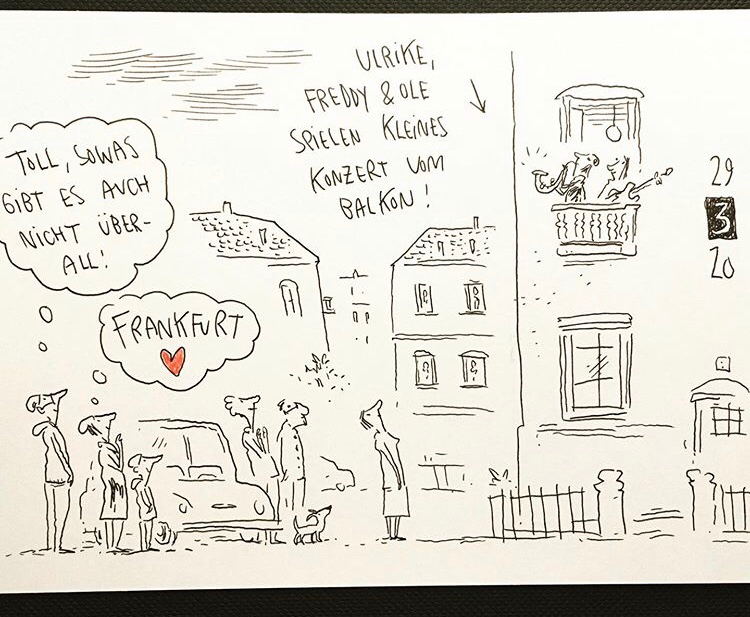 Reading Carl Bergstroem-Nielsen's comment on May 12th about playing outside brought up the idea to also write about my balcony concerts on this blog. So I started writing down some thoughts this very day and finished today.
12. Mai 2020
Too tired again.
The tasks of "real life" are increasing again – working in school (children), teaching online (college students), home schooling (own kids) – I hardly find the time to write, even less to listen to our tracks or record.
This is partly due to the special combination of being an improvising musician and a mother at the same time. Right now, I just spent the evening rehearsing jazz standards with three of my sons… for the upcoming balcony concert with our Corona Hausband.
Yes, live music, played while being physically close to one another. A huge advantage of a big musical family … making lots of our neighbors happy.
When I started this blog, I was not going to write about my family. Now, with all those thoughts and discussions about live music versus digitally organized sounds, I feel like I want to confess myself.
And yes, playing live at home helped me through these last weeks a lot. I'm lucky to have great young musicians here, a full rhythm section!
30. Mai 2020
Yesterday I played the 6th balcony concert with my sons.
What a gift to be able to play with my own children! At the rehearsals I was standing amidst them in our living room, closing my eyes, just listening, playing – having them all just there, their different voices on piano (Fender Rhodes), bass and drums interweaving, mixing, blending in, forming a whole. We played a.o. Joe Zawinul's "Mercy, Mercy, Mercy" and Stevie Wonder's "I wish". It was the first time my youngest son (12) joined the Corona Hausband on drums.
Now I'm all happy with the effect our balcony concert had on our audience as well as on ourselves. Having shared an intense moment like that strengthens the bonds between us in a way. This seems true for my family as well as for the neighborhood. In the evening later on I was sitting in the front yard with my husband and two of the women living in the same house. I've known them for many, many years now. We were exchanging the latest news, how we all get along in these times, reflecting on the concerts, thinking back of the times when our kids were little…
Why I am telling all this? Because to me, this all seems to be a part of my music-sharing-experience. Music does not exist without some sort of social context. It is always embedded. And it has got a strong impact!
So many people were so happy!
The driver of a hifi store delivery truck slowed down to walking speed, waved out of the window, a big smile on his face, stuck out his cell phone… Passers-by on their bicycles were waving, holding their thumps up, some of them stopping. The neighbor across the street for the first time opened the gate to his yard for the time of our concert and came up front to the street, talking with other neighbors, listening to the music, enjoying. The little child in the window third floor across the street sat there all the time smiling, laughing, waving. Many people were holding up their phones, trying to catch the moment and share it with others. Friends and strangers were lining up on the opposite side of the street, keeping their distance to others, whole families sitting on the pavement, some folks had brought their beer, some stopped by after work on their way home. A dog down the street was barking like crazy, adding to the sound and the atmosphere, people laughing about it. Three houses further down sat a young man on his balcony forth floor all by himself, people on their balconies all over the place, the street in front of our balcony filling with people more and more. It seemed like everybody who heard us play immediately dropped everything they were doing at the time and hurried to their balcony or out to the street.
And there was less fear, less fear than the weeks before. People were still keeping their distance to other people, but with less fear.
The music we played were mostly jazz standards – most of the people there would probably not go to a jazz concert with the same music. They seemed to like the music, though. Maybe we ought to rethink our concepts of concerts …
Before the concert I wasn't sure if there was going to be an audience, if people would still be interested in our balcony concert – now that everybody is getting more and more involved in a sort of every-day-life again, much more now than this was the case in March or April.
But yes – they were there. And they were grateful.
It is wonderful to be playing for real humans! For neighbors, friends, strangers, drivers of delivery trucks, pedestrians walking by on their way to wherever.
Today, the day after the concert, I'm still full of energy – energy these people gave me back when playing.
Well, that's nothing new, someone might say. Yes, we all appreciate an open hearted and appreciative audience. But now, that this has become such a rare and almost impossible situation, it is even more true. The energy is amazing, everybody being so happy!!!